There are quiet a few parties today and I linked to them all!
Welcome to you all from…
Southern Hospitality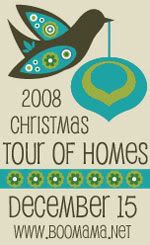 Boo Mama's Tour of Homes
Hooked on Houses Hooked on Holiday House Tours
Whew..That's a lot of partying! I hope that you all enjoy yourselves. If you frequent often there are lot's of repeats considering I started decorating 2 weeks
before
Thanksgiving! *smiles*
We shall start in the kitchen because that is my favorite place during the holidays!
My little snowman that is in front of our kitchen sink. He is finally starting to feel at home in this hot southern state (Florida) because of the snow flakes that have formed above…
These snowflakes were made on a previous post,
here
.
Onto the dining/living room.
This little snowman plays plenty of music during the Christmas season. His little antlers light up and sway back and forth…He's just a lot of fun!
Santa's key….It hangs on my china cabinet until Christmas Eve…Then the girls put it under our front mat so that Santa can come in. I hope we never lose this little thing, other wise the kids might think that Santa won't be able to come inside!
Inside my china cabinet I keep it simple….
I made this ribbon garland, if you'd like a little more information about it, you can read about it
here
.
On to the den…Where the kids Christmas tree is as well as another snowman of mine…
They picked everything out on this tree as well as decorated it. They are so very proud of themselves!
Our hall door leading to the bedrooms holds a very important part of our Christmas season…The Advent cal. The girls fight over who's going to change the date every morning. And it's where our stockings are hung!
Our bedroom decorations…
Our bedroom…
Kayla's bedroom…
Kelsie's bedroom…
And last but not least…To finish up this little tour…Our tree…
I hope that you all enjoyed my Christmas tour…I can't wait to see what all of your homes look like this holiday season. *smiles*