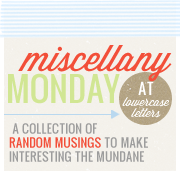 It's Monday and it's miscellany time again. To check out other Miscellany Monday Participants, click on the button right up there. :-)
Time Change
Did I mention how sleepy I am? I really didn't sleep much last night at all. I tossed and turned and wiggled and moved. It was horrible. I woke up too early this morning as well. The only good thing about the time change is the longer afternoons.
Lady Gaga
Yesterday while I cooked dinner the girls were playing dress up. Kelsie has an abundance of dress up clothes thanks to birthday parties, product reviews, Halloween and the teacher I work with. I think every item was in use at some point yesterday evening. I couldn't help but laugh and grab the camera.
Even Kayla got in on the action.
To Do List
My to do list is a doozy! We are preparing for our vacation and I'm really trying not to forget anything whatsoever. I worked on purchasing what needed to be purchased this past weekend and I even have all of Kelsie's clothes ready to be put in her suitcase. Kayla followed her list I made for her and has everything ready to go as well. We are on an official count down!
Devotionals
Sometime this coming week or early next I have a post about "Change". In this post I wrote about how I wanted to start doing devotionals. Maybe not daily but at least weekly. Well yesterday I started looking online for family devotionals available online. While I didn't find a huge variety, I did find one site that was wonderful. It's by
Josh McDowell
. I am sure that if you have ever picked up a Christian book you have heard of him. Heck, I even have heard of him before. Anyways. I did the Youth Devotional last night with Kayla. It was wonderful. She created a list of things that she'd like to change about herself and then she prayed on them. I had her post it on her bulletin board in her bedroom so that she could remain focused on it. I think that little bit of time between the two of us really worked out wonderful. I even searched for one for Kelsie. I found
this
site that I thought is a great resource for Kelsie's age. We did the first devotional, Learning to Obey. We read out of the Bible about Adam and Eve eating from the tree in the Garden and how they had been told not too by God. She knew that God wanted us to be obey the rules but this sort of reinforced that point. She prayed for God to help her follow the rules even when she didn't want too. While I was reading her scriptures from the Bible she was listening to every word that came from my mouth. I would stop and ask questions and she was able to answer them right off. It was a wonderful feeling to know that she was learning something from the Bible.
So that was my miscellany monday! Hope y'all have a fabulous week!!