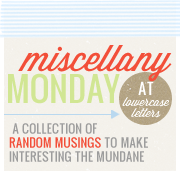 - School starts in officially one week. :-/  We're not ready.  Well we are because we've bought all the school supplies the kids need and new clothes and shoes.  However we aren't ready to get up at sunrise. 
- I kept busy this past weekend.  I started painting the hall doors.  Why?  I don't really know.  I have been wanting to get them painted for a while now.  I have NEVER liked the brown doors!  Yucky!  Now they look so fresh and happy and clean.  Now…we have to repaint the walls.  Why?  Well because they are white.  White doors. White ceiling. White trim. White walls…It's very dare I say…sterile.  Sterile is good…for a hospital.  Thinking of a shade of gray to go with.  Gotta think on which shade for a while.  Hmmm.
- I have a rant post about my Compaq laptop coming up this week.  It's not happy.  It's not funny.  It stinks!  And with that experience we will never be purchasing this brand again!  You'll have to read later this week to see why we will no longer be their customers!
- I posted last Monday..I think..about the spaghetti and meatballs that your kids will love…that include a veggie…that veggie was spinach.  They are delicious and I posted this post finally on Saturday night.  You can read the spaghetti and spinach meatball recipe/post here.
- Kayla's room got completely finished this past weekend.  YES!  Here is the official sneak peek….
The whole room to come this week…including the before and afters.
- Have any of you heard of SparkPeople.com?  Well that is where I've spent the past week.  I really love it and feel that anybody that is needing to lose weight/get healthy should check it out.  I'll tell you more this coming week as well. 
Wow that's a lot of posts this coming week!  Let's see a Compaq rant.  Kaylas bedroom.  Sparkpeople.com. Oh and I have another recipe that I have to post this week.  It was SO good!  Another find from Pinterest! ;-)
Happy Monday!