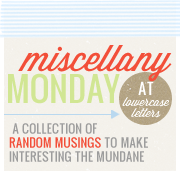 ~ We are so sad…we lost our ferret yesterday.  Nestle was 8 years and 2 months old.  She was a big part of our family and her loss has really hurt us all.  You would never think that an animal like a ferret could be anything more than just a pet, but she was.  She played with the kids and loved giving kisses.  Zack knew on Saturday night that it was close and then yesterday morning we checked on her and knew that it was going to be soon.  We let her be and stayed by her side the whole time…then she started squeaking and we knew she was finally in pain.  I called around to find a vet to take her to and luckily Banfield at Pet Smart was open.  We took her in and then euthanized her.  We brought her home and buried her next to the kids swing set in the back yard.  I think Kelsie is taking it the hardest now because she doesn't quite understand.
~ Tip from me to y'all…don't go house hunting in your dream state/town online unless you are able to move very soon.  Otherwise, you'll find your dream home at an unbelievable price and get in a funk thinking about it. :-/  This is what I did.  Of course I think it may have gotten Zack in the same funk.  He was telling me where he searches for government contracted jobs at so I could look for him and he told me to let me know when I found anything to email it to him.
The house?  It's in the subdivision we want because we looked at the houses here years ago.  And we love everything about it.  It's 4 bedrooms and on a cul de sac with a great yard.
~ We had to have a plumber come over Saturday morning.  Friday night Zack and I tried everything we could possibly think of to get our kitchen sink unclogged and nothing worked.  From plunging to the vinegar/baking soda to even Drano like stuff….we finally gave up and made an appt for the plumber to come over bright and early Saturday morning.  He fixed it and was so reasonable priced too.  We will be using Plumb Better for all our plumbing needs from now on!
~ All Christmas stuff is up inside.  I am really enjoying the lights that glow at night from everything. 
~ I have ordered the two main gifts for the kids and one is already here.  The other should be here this week.  Then it's only the little stuff and I will be finished. 
~ Pinterest, why must you be so addictive?!  I really must learn to sign out when I leave that page because I get sucked back in so easily.  I am no longer all over Facebook, because it's boring and drab.  Pinterest is where it's at! If you aren't following me…you should..or not…no pressure. :-)
~ I still haven't ordered Christmas cards…so I'm thinking that I'll have to pay the extra and have the place I go with send them out.  I think Tiny Prints does this.  I'll have to check on that.