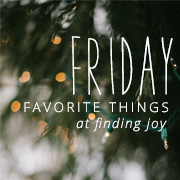 I'm linking up with
Rachel
today for a list of my favorite things. I haven't done this in a while and thought it would be kind of nice since today is the last "free" Friday before school starts back on Monday.
1} Kelsie is finally thrilled about going to school on Monday. I'm hoping it's a great start for this year!
2.} Talks with my sister-n-law mean more than she'll ever know. Last night I was stressing about everything. I called her and we talked until the battery on my phone was almost dead. I needed that talk. When we got off the phone I felt so much better.
3} Kayla and I had some nice one on one time last night. It might have been birthday shopping and grocery shopping but it was nice to spend time with just her. She's growing up so fast and I don't want to miss any opportunities in this critical age frame where we need to have talks from time to time. I want to give her that chance. Even if it's just us looking at shredded cheese in Publix. =-)
4} We're having Kelsie's 6th birthday party on Sunday. She has requested only one particular birthday item and that was a new shopping cart for her babies when she pretend grocery shops. No problem! Pretty soon she'll be asking for iPods and video games.
5} I am still relishing on our trip last Sunday to the East. We had a great time and I got some great shots. I am going to be editing some this week to update some frames around the house. I can't wait to go on our next day trip!